AUGUST 2017 RELEASE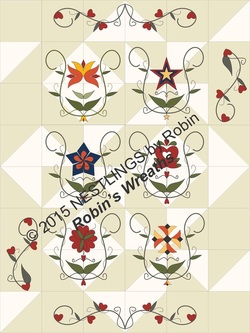 WELCOME TO THE 2017 BOM!
This year I switch back to one of my all time loves, Baltimore Album style! I added my own bit of whimsy of course:)
This one makes me so excited and I hope you as well.

Also this year I will be adding an auto ship option to
a pre-payment plan.

---
START UP Packages available MARCH 1st! Your start up fee will include:
1- Supply list
1-Robin's Wreaths pattern with all the instructions to make your monthly blocks, minus the monthly applique templates which will be available on the 8th of every month as a one time digital download to be emailed to you after payment notification is received. There will be a monthly fee of $5 for the templates.
1- Download Calendar
1 Small Thank You!
Any questions? Just email me!
MONTHLY PDF FILES
Due to VAT regulations overseas dealing with taxes on digital products, this will NOT be an immediate download.

Once I have received notification of payment, I will email the PDFs to you directly. Please verify that your email address can be seen by me on your PayPal account.

You will have the pattern within 24 hours. Thank you for your understanding.