Welcome to the whimsical world of NESTLINGS! On the following pages you will find fun and fusible designs. Although passionate about hand work myself, my patterns are written for fusible applique so that you may finish your gift in a timely manner. Enjoy and feel free to email with any questions OR to show off your finished piece:)
robin@nestlingsbyrobin.com
QUICK STITCHES (2 hours) and RED WORK designs. ENJOY

Images can be seen larger by clicking on them. ALL designs protected by copyright law.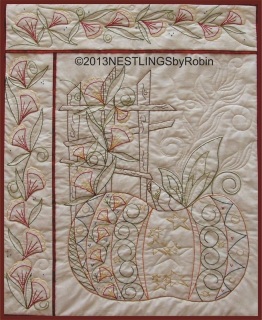 PUMPKIN TRELLIS
#435
Wall Hang- 21" x 27"
Hand embroidery/Piecing
Let your mind wander as your fingers fill in the lacework of this adorable pumpkin.
Pattern includes layout for a mini version at 9-1/2" x 11-1/2".
Don't want to do redwork? Go here
to do it in applique.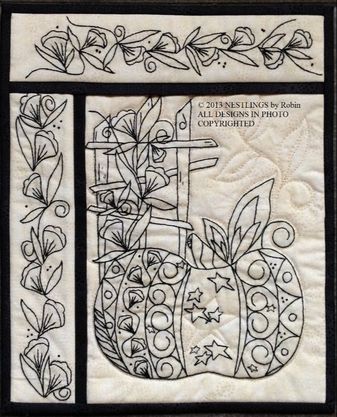 BLOOMS of HOPE

Ribbon Vase #437

Wall Hang- 11" x 23"

Fusible/Machine Applique

These spring flowers set into an inverted Ribbon Vase will cheer anyone...

No water needed.

Change the color of the Ribbon to match the recipient's need.

10% of MY sales donated to Cancer research.




---

SEMPER PARATUS

#438

Mini Wall Hangs- Either 12" square OR 8" x 13"

Fusible/Machine Applique OR Hand embroidery.

Great for using with

Ackfeld Manufacturing's

new Patriotic line of wire hangs.

Initially meant as an honor to my family's Coast Guard Service, all the lettering necessary to make any of the 5 services' initials are provided.

The Mariner's Compass would work with any service to honor the military as our country's guiding light.