WHERE TO FIND ME.....

Space is limited in the 2018 calendar so if your guild is considering booking me , get your request in now. robin@nestlingsbyrobin.com Thank you.
The 2019 Calendar is now OPEN with New things to see too:)


---
Summer heat with sweet trellis flowers in the new GENERATION Q magazine.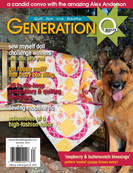 Gen Q is a great group of people to work with! They liked my MODERN TRELLIS as much as I did and published it in the Summer 2016 edition.
Some simple strip piecing and simple applique, because what is a trellis without flowers?
Find it on page 54 and if you have any questions, email me at robin@nestlingsbyrobin.com
---
---
Hot off the presses, the new GENERATION Q magazine.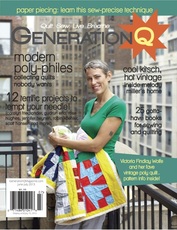 I was very honored to have my new design come out at the
Portland Spring Market 2013. My mug even made the wall of photos:)

If you like to paper piece and you like martinis, I have a design for you....
Extra Olives, Please is a paper piece table runner so you don't
have to invest too much time and poof-summer decor!

Find it on page 37 in the Trendology teaching segment...takes the fear out of paper piecing just for you.
---
I am in the new QUILTMAKER magazine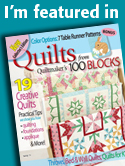 In March the Spring issue of Quilts from
Quiltmaker's 100 Blocks hit shelves and my
Watermelon Days table runner is on page 68!
Look for it at your local shops!


---
Quiltmaker's 100 Blocks series: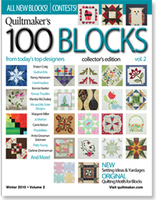 This is a fantastic collection of original block ideas all
done in 12" so that you can mix and match your quilt.

You can find my blocks in Vol. 2, 5, 6, 7 and 12, so far:)

I am usually in the foundation pieced section but in 7, you will find me in
mixed techniques. You have to branch out sometimes!

---
Quilter's World December 2010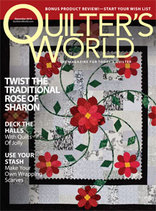 My first publication!
Gingko Romance is a wonderfully fun take on a log cabin with Gingko
leaves added for fun. It is a table setting that includes a runner, 4 mats
with 3D chopstick holders, and a mini set of 3 wall hangs.
If you missed the issue,
you can find the pattern here on my website.
---