SEW MUCH NEWS
HAPPY AUTUMN everyone! As you know, I am in Florida so we don't really get Autumn until January. The oak trees out back are browning though and the humidity has lessened so I try to enjoy that.
International Quilt Market is the first weekend in November and I will be in Houston helping my friend, Suzn Quilts, while also attending some meetings of my own.
Keep Stitching,
​Robin
---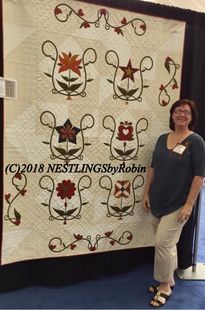 "Robin's Wreaths", Part 3 just came out in the November 2018 issue of AQ Magazine.
​I hope you are an AQS member so you don't miss one minute but if not, there is always time to become one and get in on all the other benefits.
A FACEBOOK GROUP has been started for those wishing to sew with friends.
You can search it as Robin's Wreaths, AQ Magazine Look forward to seeing you there.
---
---
Check out the
WHAT'S NEW
page for new workshops, sales, and my TIMELESS TULIPS patterns because they are still my most recent favorites....:)
You will also find NEW workshops and lectures with 2019 and 2020 now open for booking.
The sweet ca 1930s basket quilt has the baskets done and I am now on to the borders which are setting triangles with feathers.
​If you have one you would like done, I am now taking contracts for 2019 at the 2018 rates until December 31st...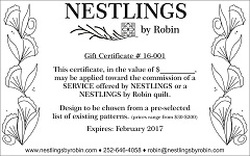 GIFT CARDS ARE HERE!!
Put this on your wish list for Christmas, Birthdays, Mother's Day...Any holiday really !
If you don't see your $$ amount listed, email me at robin@nestlingsbyrobin.com for a custom GC.
---
-----------------------------------------------------------------------------------------------------
FIRST TIME HERE....
1. If there is a new baby coming into your world, check out the
NESTLED BABIES
page for all our adorably sweet baby designs.
2. If you have a LIFE event coming up that you would like to gift an heirloom piece to, please check out our
SERVICES
page. We would be honored to assist you. If you found grandma's tops that need finishing, feel free to contact us.
****Now offering Heirloom Finishing and Custom Creations.****
3.
QUILT SHOPS:
Wholesale orders can be addressed directly to me by emailing me at
robin@nestlingsbyrobin.com
THANK YOU!
------------------------------------------------------------------------------------------------

NEWSLETTER SIGN UP!

DO YOU SUBSCRIBE? We are now with Constant Contact and if you aren't signed up, it is as easy as sending me an email at
robin@nestlingsbyrobin.com
This also counts as giving me permission:) Thanks.
-------------------------------------------------------------------------------------------------

WHAT YOU SEE IS WHAT YOU PAY!

Starting in 2015, the price listed with every item on the website is the only fee you pay. ALL prices have been adjusted to either include shipping or offer FREE shipping.

Bottom line- no surprises when you hit that final button at checkout! Thanks for your order:)

NESTLINGS is about wrapping you and your loved ones in creative warmth...Come share the journey!

Whether for cold winter eves or to brighten a corner of your world, quilts bring art alive in many shapes and sizes. Here at NESTLINGS you will find fun and easy patterns for all skill levels. I hope you find that perfect piece to feather your nest with.
---
My site is constantly changing. I hope you will check back often to see what else I have to show you. In the meantime you can learn more about me and what I love in life by following me on my
blog
,
Facebook, and Twitter- @Nestling1.
About Me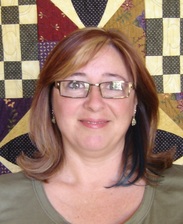 Life is a journey and no one knows that more than Me! When I'm not relocating with my Coast Guard husband; I am designing, writing, teaching, and quilting. NESTLINGS by Robin is my design business where I devise new ways to combine applique ideas with piecing to create my Whimsical-Traditional style.
There isn't a technique I don't like so check the website to see if you have a Niche I can scratch!



NESTLINGS by Robin was opened in 2004 and is a Quilt Design/ Pattern Publishing and hand quilting services business that has published 60 patterns to date that can be found in quilt shops across the country. I have had multiple quilts juried into AQS Paducah and Mancuso Mid-Atlantic shows; but I truly love to design and bring new, original, fun and easy patterns to quilters of all skill levels.
---
Do you love Fresh, New Designs?


If so, please be a leader by following Copyright Law.
COPYRIGHT= The sole right to sell, publish, or distribute a literary or artistic work.


Webster's Dictionary: Sole right refers to either selling or giving away.

This law allows designers to keep their businesses and dreams alive. I enjoy requests for my designs to be used for charity, show competitions, or resale for profit when proper credit is given to me, the designer, as the design source. If interested in producing multiple pieces for resale, contact me so we can set up an inexpensive License Agreement to protect both of our interests. Thank you.
---
SAY HELLO,
I am just an
email
away: