WELCOME to NESTLINGS!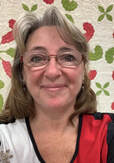 My name is Robin Koehler, mom to 2 amazing daughters, married to Jim, a 30-year retired Coast Guard veteran and now 'Bobbin' to a sweet new grand little. Since we get to pick our grandma names now, I chose sewing related:)
Life is a journey!
NESTLINGS by Robin is my design business where I imagineer new ways to combine applique' ideas with piecing to create my Whimsical-Traditional style.
There isn't a technique I don't like so check the website to see if you have a Niche I can scratch! I am only ever an email away:
robin@nestlingsbyrobin.com
NESTLINGS by Robin was opened in 2004 and is a Quilt & Surface Pattern Design, Pattern Publishing, hand quilting services, & AQS Certified Quilt Appraisal business.
My designs can be found in quilt shops and magazines throughout the world.​
I have had multiple quilts juried into AQS Paducah and Mancuso Mid-Atlantic shows; but I truly love to design and bring new, original, fun and easy patterns to products and quilters of all skill levels.
---
Today's Benartex Virtual Fabric Show introduced 2 new patterns, '
Amaryllis' and 'Holiday Settings'.
Both can be found in my ETSY shop as
​PDF downloads with full sized templates!
My First Ever Calendar:)
Ring in 2023 by treating yourself to a year's worth of mini embroidery designs
and YouTube video tutorials of the beginner stitches along with ideas for
living with mini embroideries every day of the year.
​This is the perfect, self-paced mini class:)
Quantities are very limited! Free Shipping!

I am very excited to announce that I have been officially certified through

Lyric Kinard's Masterclass for Virtual Teaching

.

If you are a teacher, I highly recommend this class. I hate to study /research and this class did all the hard brain work for me!

If you are a student, I can't wait to meet you in one of my upcoming classes in 2023!

Keep an eye out here for more information:)
---
Quilting for a Cause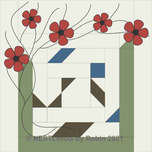 I have a new design that is very personal to me but can be adapted to any situation.
Please join me in raising funds for Sexual Abuse Awareness with my new design,
Breaking Free
.
For each pattern purchased, $8 will go to RAINN! Thank you!
---
FIRST TIME HERE....
QUILT SHOPS
Wholesale orders can be addressed directly to me via email:
robin@nestlingsbyrobin.com
SURFACE PATTERN DESIGN LICENSING
Please direct any inquires directly to me via email:
robin@nestlingsbyrobin.com
Portfolio images available upon request. See link below. Thank you!
The drop-down menu above will take you to all pages or use these
QUICK LINKS.
Robin's Rocking Needles
FACEBOOK GROUP
is between BOMs right now
but there are still a lots of tutorial videos available for viewing with tips about fusible applique' and bias tape making.
Robin Koehler now has a
YouTube channel
that you can subscribe to:) Some of my workshops have intro videos there.
As always, you can follow along with the quilting updates on my
FB page.
​If you have a treasure you would like hand quilted,
I am now taking contracts for 2023.
​---------------------------------------------------------------------------
My site is constantly changing. I hope you will check back often to see what else I have to show you. In the meantime you can learn more about me and what I love in life by following me on my
blog
,
Facebook, and Twitter- @Nestling1.
Do you love Fresh, New Designs?


If so, please be a leader by following Copyright Law.
COPYRIGHT= The sole right to sell, publish, or distribute a literary or artistic work.
Webster's Dictionary: Sole right refers to either selling or giving away.
This law allows designers to keep their businesses and dreams alive. I enjoy requests for my designs to be used for charity, show competitions, or resale for profit when proper credit is given to me, the designer, as the design source. Thank you.
---
SAY HELLO,
I am just an
email
away!